One of the best methods to achieve a thick, crunchy crust is to bake a bread twice: after cooling down the bread is placed in the oven for a second time for about 15 min. During that time the crust gets its extra bit of crispiness.
And this method I used for this farmers bread. It contains 15% Rye flour and the typical Bavarian bread spice mixture of caraway, fennel and coriander seeds. If you, like me, have a well stocked supply of spices then it is easy to mix the needed spices by yourself. For grinding you can use either a mortar and pestle, a food processor or a coffee mill. And if you have a grain mill which allows you to mill oily seeds, then the easiest way is to mill the seeds with some wheat berries – just remember to reduce the amount of flour accordingly to the amount of wheat you mill.
The amount of bread spice is seasoning in a discreet way without overpowering the other flavours of the bread. This makes this bread suitable for hearty cheese as well for sweet spreads like honey.
Double baked Farmers Bread
Sourdough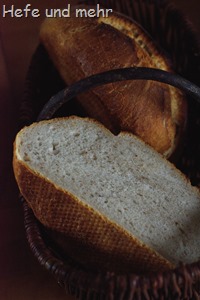 15g Sourdough
150g Rye flour Type 1150
150g Water
Dough
sourdough
850g flour Type 550
510g Water
12g fresh yeast
20g Salt
10g grounded bread spice (caraway, fennel and coriander seeds in equal parts)
Mix the ingredients for the sourdough and let it rise for about 14-16 hours.
The next morning knead all ingredients 5 min at the slowest speed and 8 min at higher speed until medium gluten development.
Let rise for 1.5 hours
Divide the dough into two equal pieces and form round breads. Place in a proofing basket with the seam side down.
Proof for 75 min, in the meantime preheat the oven with a baking stone to 250°C.
Place the loaves in the oven with steam. Turn the temperature back to 200°C after 10 min and bake the bread for another  35 min.
Let the bread cool down for at least one hour (or overnight), then heat the oven to 250°C and bake the bread on a cooking grate or baking sheet for about 15 min.