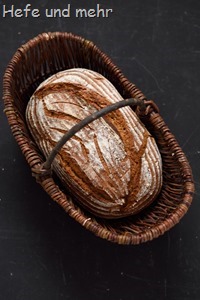 I like recipe tweaking – especially when this happens so spontaneously like here. Duríng a nice exchange about sweet starter the questions occurred how to add the starter in a existing and trusted everyday bread recipe. I offered help and Kekki posted her formula and the wishes for the new versions. The recipe sounded very good, made with Kefir or Buttermilk, 20% rye and 80% wheat. I exchanged the wheat sourdough with sweet starter and added a long, cold autolysis for the whole grain flour. And I baked the recipe directly, as it sounded so tempting. And I was not disappointed: The bread is very flavourful, with a hearty tangy note, good crust and soft crump. A true everyday bread!
Kekkis Everyday bread
yields 2 Breads
Rye sourdough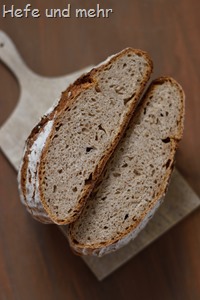 20g Sorudough
200g fine rye meal
200g Water
cold Autolysis
200g whole spelt flour (or whole wheat flour)
300g Kefir or Buttermilk
150g Sweet Starter
150g flour Type 550
75g Water
Dough
Süßer Starter
Rye sourdough
cold Autolysis
250g flour Type 550
100g flour Type 1050
20g Malt
10g fresh yeast
20g Salt (Kekki: 22,5g Salt)
100g Water (Kekki: 25-55g)
Mix water, flour and starter for the sourdough and ferment for about 12 -16 hours at 25°C.
For the cold autolysis mix Kefir (or Buttermilk) with whole grain flour and let it soak overnight in the fridge
The next morning mix the ingredients of the sweet starter and let it rise until the volume doubled (about 3 hours) at 30°C.
Now knead all ingredients 5 min at the slowest speed and 8 min at higher speed until medium gluten development.
Let rise for 1 hour.
Divide the dough into two parts and form to two oval breads. Place in two floured proofing baskets.
Proof for 1 hour.
In the meantime heat the baking stone at 250°C .
Place the loaves on peels and slash lengthwise (make some shorter, decorative slashes if desired). Place the breads in the oven with steam. Turn the temperature back to 190°C after 10 min and bake the bread for another  40 min .