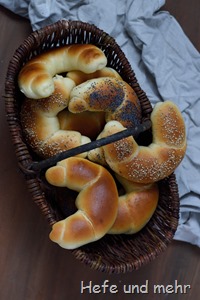 Some Weeks ago a reader send me a recipe asking if I could change it to less yeast and with the possibility to let the rolls proof overnight in the fridge. The recipe was – to use the famous words of Alfred Biolek – "interesting" as it contained not only a lot of yeast but baking powder as well.  So it was not very surprisingly that the recipe yielded roll which taste not so good and get stale very fast.
And my recipe variant only contains now hints of the old one. With a poolish, a water roux, adjusted yeast amount and no baking powder it is a complete different story. I had to adjust the amounts of flour as well as my first draft was getting slightly on the to wet side. The final formula has still a higher hydration then the original recipe, but the dough is good to handle when the gluten network is fully developed.
And I am more then pleased with the Kifle. They have very fluffy crumb and a perfect soft crust and develop a fine flavour due to poolish and yoghurt. A perfect roll for both sweet and hearty Spreads.
Kifle
yields 12 Kifle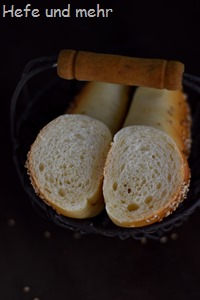 Poolish
100 g Milk
100g flour Type  550
0,5g fresh yeast
Water roux
75g Milk
15g flour Type 550
Teig
Poolish
water roux
435g  flour Type  550
50g Egg (1 Egg sizeM)
200g yoghurt, 3,5% fat
20g sugar
25g oil
10g Salt
8g fresh yeast ( for an overnight proof in the fridge use 4g)
Glazing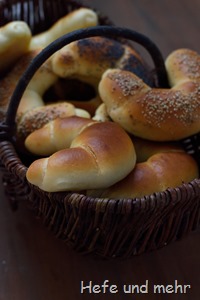 1 egg yolk (ca. 15g)
15g Water
Sesame and poppy seeds for sprinkling
Mix the ingredients for the poolish and let it ferment for about 14-16 hours at room temperature.
For the water roux whisk water and flour until lump free, then heat it up to 65°C (needs about 3 min) while whisking. Fill the water roux in a bowl, cover its surface with cling foil and let it cool down to room temperature.
Knead all ingredients for 5 min at slow speed, then another 12-15 at high speed until full gluten development. The dough should be soft and a bit sticky.
Ferment for 1 hour.
Divide into pieces of 85g, preform to balls and let them rest for 15 min. Flat the balls to ovals with a length of 20cm and a width of 12 cm. Roll from the short side to a log. Form to a crescent and place on a paper lined baking tray.
Proof for 1 hour.
Preheat the oven to 230°C.
Glaze the crescents with beaten egg and bake for 20-25 min at 230°C.