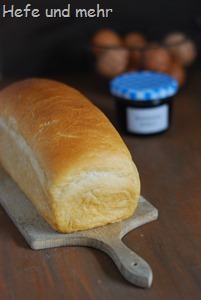 Björn posted a series of fluffy Netherland breads back in January. One of these Breads was the classical Witbrood. It looked temping soft and fluffy. I bake those breads rather seldom, but when we finally felt a longing for a fluffy bread, I decided to use Björns Bread as Inspiration. My Witbrood-Variant is made with a mild sourdough and 2% yeast. This is for me a rather high amount, but it helps to create a high risen bread in a considerably short time.
Due to the wheat sourdough it develops a fine flavour with lactic acid notes – like a good yoghurt. And so it is not clear to me, why this post sank down to the bottom of the "well of lost plots". But I brought it back to the surface – and here it is, with just three month delay!
Witbrood
yields 3 small breads
Sourdough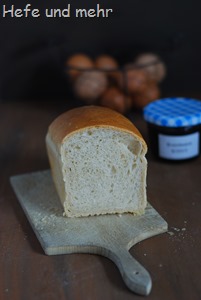 Dough
Sourdough
700g flour Type 550
300g Milk
120g Water
5g active Malt
10g inactive Malt
20g sugar
50g Butter
20g fresh yeast
20g Salt
Mix all ingredients for the sourdough and let it rise overnight (14-16 hours) at 25°C.
Place all ingredients except the butter in the kitchen machine and knead 5 min at slowest speed, then around 10 min on fast speed until complete gluten development. Now add butter and knead for about 2 min until butter is complete incooperated.
Ferment for 90 min.
Degase the dough and 2equal parts. Roll each piece into a long thin oval, wet the sureface and roll into a log. Let rest for 10 min, then roll it again along the seam to an long, thin oval, fold the long sides into the middle and roll again tightly to a log. Elongate to strand to the length of the baking pan.
Place each strand in a buttered pan (20 cm long).
Proof for 90 min.
Bake with steam at 175°C for about 55 min.