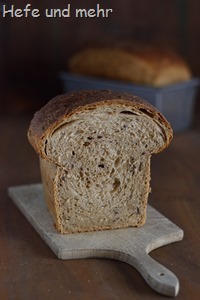 This Sandwich bread is a readers wish. But I needed two rounds, until I was really satisfied. In the first Variant I had a boiled soaker with whole spelt flour and seeds, but this added to much liquid to the dough. This resulted in a very instable crumb. The recipe needed adjustments!
The bread (in both tries) is a pure spelt flour with 30 percent whole grain flour and amixture of flax seeds, sesame and sun flower seeds for an extra nuttiness. The preferment is a biga made from whole spelt flour. This has many advantages: the whole grain flour has enough time to soak up the liquid, a biga helps to strength the gluten network and it adds complex flavour nuances, too. As every sandwich bread this bread needs a fully developed gluten network, and spelt is a sensible. So it is needed to keep a close eye on the dough to find the perfect spot.
At the rerun of the recipe I used a bit mashed potato for fluffiness and a soaker with an only moderate amount of water. This makes the dough recognizable firmer, the dough is easier to handle and the fluffy crumb gets enough stability. So what was my lecture of this day? Sometimes less (water) is more!
Spelt & Seed Sandwich Bread
Biga
300g whole spelt flour
160g Water
3g fresh yeast
Soaker
110g boiling Water
30g Sesame
30g Flax seeds
30g Sunflower seeds
30g roasted (Spelt-) bread crumbs
Dough
Biga
700g flour Type 630
310g Milk
200g starchy potato (cooked and mashed)
5g diastic Malt (optional)
35g sugar
50g Butter
15g fresh yeast
20g Salt
Soaker
Mix the ingredients of the biga and let it rise for 2 hours at room temperature and 14-16 hours in the fridge.
The next morning mix the seeds and bread crumbs for the soaker with the boiling water and let it cool down to roomtemperature (takes 1-2 hours)
Place all ingredients except the soaker in the kitchen machine and knead 12 min at slowest speed. Now add the soaker and knead for about 2 min until butter is complete incooperated.
Ferment for 90 min.
Degas the dough and divide into two equal parts. Roll each piece into a long thin oval, wet the sureface and roll into a log. Let rest for 10 min, then roll it again along the seam to an long, thin oval, fold the long sides into the middle and roll again tightly to a log. Elongate the strand to the length of the baking pan.
Place each strand in a buttered pan (20 cm long).
Proof for 90 min.
Bake with steam at 175°C for about 55 min.