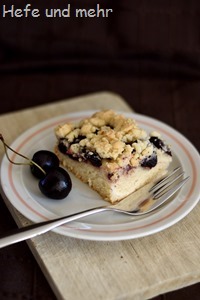 There are big changes in the job lying ahead of me and so we decided to take a short vacation to refill our energy. But to find a free vacation home in the middle of the summer was a bit troublesome. But finally we found a beautiful one at the border of the "Alte Land". The Alte Land is one of the most prominent growing area for fruits in Germany, especially for apples and cherries. A dream place for a food blogger! Beginning of August we were just in time for the very last cherries and first Damsons and Mirabelle plums. And as the vacation home kitchen was well equipped with an oven baking cake was a must. A damson cake for my love and a cherry streusel cake for me, baked in two small ceramic dishes. But the cake will work well in a "normal" spring form, too.
The dough is my "normal" dough for plum cake, a mixture of yeast dough and short crust. It is a fluffy dough that stays fresh for a long time and which keeps the fruit juice in the dough very well. A perfect cake for lazy summer days!
Cherry Streusel
Yeast dough
5g fresh yeast
70 g milk
55g Egg (1 Egg size L)
210g flour type 550
1 pinch Salt
grated lemon peel
20 g sugar
25g Butter
Shortcrust pastry
100g flour type 550
65g Butter
30g sugar
Topping
Yeast dough: Dissolve yeast in milk and mix with egg, flour, salt and spices 5 min with hand. Now add half of the sugar, knead for 1 min, add the remaining sugar, knead again 1 min. Then add all of the butter and knead until well incooperated. Let rise for 1 hour.
Shortcrust pastry: Knead all ingredients until a crumbly dough has formed. Chill  for 30 min.
In the meantime mix the ingredients for streusel, at the end you should have a crumbly dough.
Combine both dough and knead until a homogenous dough has formed. Roll to a circle and place it in a spring form with 26 cm diameter or in two small ceramic baking dishes.
Remove the pit of the cherry and place in the spring form and top with streusel.
Proof for 30 min then bake for 50 min at 180°C.