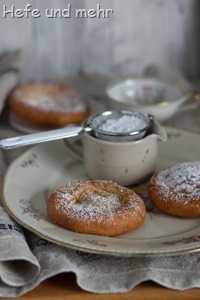 The Ausgezogne is a south german deep fried cake which is similar to a doughnut but instead of a hole there is a very thin dough layer in the middle. Sometime this cake is called Knieküchlein (literally knee cake), too as the thin dough layer can be archived by stretching the dough over the knee. But it can be stretched by hand, too, and is very similar to forming pizza dough.
To get a good stretchable dough it is important to develop the gluten network fully. To support the gluten development a pâte fermentée is added to the rather soft dough. This makes it easy to  form the Ausgezogne dircetly before frying. The thin part gets crisp while the outer rim is soft and fluffy. And this contrast is typical for the little cake and makes it so delicious!
Ausgezogne
yields 20 Ausgezogene
Pâte Fermentée
200g flour Type 550
140g Water
4g Salt
2g fresh yeast
Dough
Pâte Fermentée
300g flour Type 550
110g Milk
110g Egg
15g Egg yolk
10g fresh yeast
3g Salt
3g active Malt (optional)
60g sugar
60g Butter
For dusting
Mix all ingredients for the Pâte fermente and proof it for 1 hour at room temperature. Then put the dough into the fridge for 12 hours.
Knead all ingredients except sugar and butter for 10 min at slow speed. . Now add the sugar in two increments and knead 1 min after add each portion of sugar. At last add the butter all at once. Knead to full gluten development.
Let the dough rise for 1.5 hours.
Knock the air out of the dough and divide the dough into pieces of 50g and shape them into balls.  Press them down a little bit and place them on a well floured couch.
Proof for 60 min without cover. Directly before frying press the dough balls down in the middle and stretch to form a thin middle dough layer and a thick rim (similar to forming pizza).
Heat the oil to 150° – 160°C and fry for 2-3 min. Dust with powdered sugar after frying.