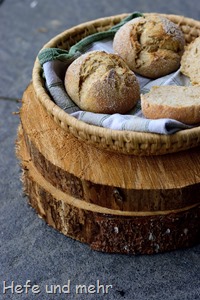 Sometimes it is just time to use leftovers. Like last friday, when I looked around in the kitchen: there was some leftover fine rye meal from the blackbread, a small bowl with mashed potatoes and in the fridge I found a lonely egg yolk. And so I combined everything and kneaded a dough for the next day. As I prefer freshly baked rolls for breakfast, the dough rose overnight in the fridge.
When we get up on Saturday I went straight to the kitchen and formed the rolls. And while we get ourselves ready, cooked coffee and lay out the table, the rolls proofed and got baked. And when we then had breakfast with the flavourful fluffy rolls I thought once again: leftover recipes can be so great!
Rustic Potato Rolls
ergibt 9 Brötchen
250g mashed potatoes
300g flour Type 550
100g fine rye meal (or whole rye flour)
140-160g Water (depends on the mashed potatoes)
20g egg yolk
30g Butter
10g fresh yeast
10g Salt
Knead all ingredients for the dough 10 min by hand.
Let the dough rise overnight in the fridge.
The next morning divide the dough into pieces of 85g each. Preshape to a ball and let it rest for 10 min.
Now lay a piece of dough in front of you and lay your hand on the dough. Start to circle your hand fast while bending the hand slowly, to create tension on the dough. At the end the roll should be nicely round and springy. On the bottom, a little hole will form.
Place the rolls on a well floured couche or tea towel on the bottom side (with the hole).
Proof for 60 min.
Prior to baking turn the rolls upside down (the side with the hole facing now upwards).
Place the rolls into the oven, reduce the temperature to 230°C and bake with steam for 10 min, then release the steam and bake for another 10 min with convection.