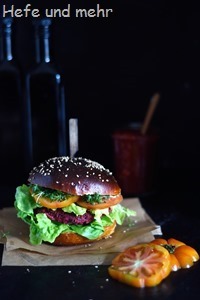 A good burger is always a favourite here – and so the collection for burger buns on the blog is already big. Because Burgers are never a fast food for us, as everything – from fries to buns – has to be homemade. And once in a while we have a new idea what we could try next.
For already some time I was thinking about a pretzel burger. The bun should be fluffy and soft like a classical burger bun. These kind of rolls are more fragile then the classical firm pretzel, so I decided to add some physllium husk to bind water, so the dough is easier to handle an can be turned in lye carefully. This works amazingly well but is still the variant for an experienced baker. For all with not so much practice the alternative is to glaze the bun with lye. Only the button is then not pretzel like.
While baking, the rolls need some care too. Due to the mixture of egg, fat and lye the rolls turn dark very fast. One minute to much and they turn from dark brown to black. But when you take them from the oven in time and when you spray them then with a bit water, you will be rewarded with buns shining like polished – a real eye catcher.
And just like the Springbrötchen the fascinating part (beside of the beautiful look) is the tension between the slight sweetness of the crumb and the hearty flavour lye flavour. And in combiantion with my favouriteABC-Burger-Patty this roll is a new star in my burger recipe collection.
Pretzel burger bun
yields 10 rolls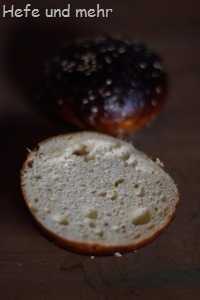 120g sweet Starter
120g flour Type 550
60g Water
Dough
Sweet Starter
300g flour Type 550
6g physillium husk
10g Salt
10g fresh yeast
55g Egg (1 Egg Size L)
40g sugar
5g Enzyme active Malt (optional)
190g Milk
40g Water
80g Butter
Lye
250g Watr
10g Sodium hydroxide (pretzel lye)
Mix the ingredients of the sweet starter and let it rise for, 2-4 hours at 30°C until it doubles its volume.
Knead all ingredients except butter for 5 min at slow speed. Then knead 7 min at fast speed. Now add  the butter all at once and knead to full gluten development.
Let rise for one 1.5 hours.
Divide into 100g pieces and form to buns and press them down. Place on a bakers couche-
Proof for 1 hour.
Carefully turn the rolls in the lye and place them on a paper lined baking tray. Sprinkle with sesame.
In the meantime heat the oven to 230°C.
Bake at 250°C for 16-18 min with steam.