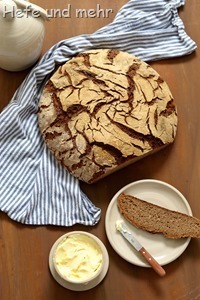 Already for some time I had the idea of a mild aromatic pure rye bread in my mind. But I need  – as everyone knows – someone to share breads with high percentage. A big family get together for which I volunteered to bake all bread needed was the chance to bring my idea of this bread to life.
My wild sourdough was build in to stages to ensure both mild flavour and good strength to rise the loaf. But at the moment my sourdough is a bit to wild and the second stage doubled its volume after just one hour. That was to short to develop enough lactic acid and other flavour components. And so I placed the bowl at a cooler spot and let it ripe for another two hours until the flavour of the sourdough was right. But the amazing power of this sourdough was unbroken. After not even one  hour(instead of the normal two) the loaf peaked over the rim of the proofing basket.
Heating the baking stone? No chance! So I heated the oven as fast as possible and baked the loaf on a baking tray.
And at the end I was happy. The oven spring was still good, the crust is thick and aromatic, the crumb moist and mild sour. The carefully dosed classical bread spices caraway, fennel and coriander underline the flavour of the bread without overpowering the complex notes of the bread. A perfect bread for rye lovers!
Potato Rye Bread
yields 1 Bread of about 1,6 kg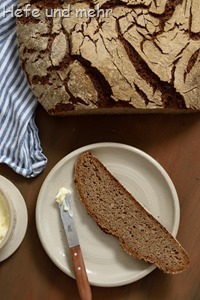 Rye Poolish
150g whole rye flour
300g Water
0,5g fresh yeast
Sourdough stage 1
130g rye flour Type 1150
90g Water
13g Sourdough
Sourdough stage 2
270g rye flour Type 1150
310g Water
Sourdough
Dough
Rye Poolish
Sourdough Stage 2
520g whole rye flour
90g Water
150g mashed potatoes
20g Salt
10g Bread spice(Caraway, fennel, coriander in same parts)
Mix all ingredients for  the rye poolish and let it rise for 14 hours at 22°C .
Mix all ingredients for  the Sourdough Stage  and let it rise for 14 hours at 22°C .
The next morning mix all ingredients for the Sourdough Stage 2 and let it rise for 3 Stunden at 30°C.
For the dough mix all ingredients for 5 min (either by hand or with kitchen machine).
Let the dough rest for 30 min.
Form the dough to a round loaf on a very well floured sourface and place it seam side down in a well floured proofing basket.
Proof for 60-120 min.
In the meantime preheat the baking stone to 250°C.
Turn the loaf on a well floured bread peel and let proof for another 5 min uncovered. Cracks on the surface will form during this time.
Place the loaves in the oven. Bake for 30 seconds, then produce steam in the oven. After 10 min, release the steam and reduce the temperature to 200°C and bake for another 55 min.