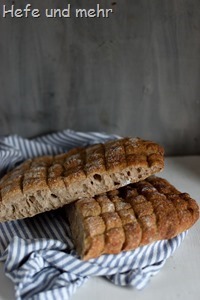 There is one big christmas tradition in our Family: Cheese fondue with Grandparents, Grandaunt and –uncle, Parents, Aunts and Uncles, Siblings and Cousins and little nieces, nephews and great cousins. The recipe for the cheese fondue I published already some years back. Last year we had a little bread desaster. The bread was not only undelicous but crumbly and break rather than holding the cheese. A lot of bread got lost in the pots… And so my Mum and me volunteered (of course without any thinking) to bake baguette for all in the next year.
Over the year I did some researching and stumbled over the swiss fondue bread, something even my Swiss Grandaunt did not knew.
Maybe she is living in Germany already for a to long time…  The nice thing about the fondue bread is that no slicing is required as it can be broke into little pieces by hand easily.some in the family like a more whole grainy bread, my mum and me split.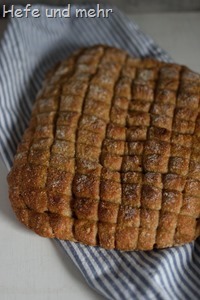 She made white fondue bread based on the this roll recipe, I made bread with 30% whole grain and original Swiss Ruchmehl. The combination of preferment and a long, cold fermenting makes the flavour full and complex. The cold fermentation helps to archive a open crumb, too and is more relaxing for baking during the holidays.
For shaping I tested different things and for me it worked best when I cut the dough with the dough scrapper after half of the proofing time. After baking it can be easily break into pieces. The bread was as perfect for fondue, as it was not only tasty but has the optimal crust to crumb ratio ensuring that it stays on the fork and get not lost in the cheese.  A good Bread just makes the cheese fondue even more tasty as it was before!
Fondue Bread
yields 2 Bread
Poolish
Dough
Poolish
700g Ruchmehl (or bread flour)
480g Water
20g Salt
2g fresh yeast
In the morning, mix the ingredients for the poolish and let it rise for 10-12 hours.
For the dough, knead all ingredients for 3 min at slow speed and another 10 min at high speed. At this point, the gluten network should be very well developed.
If possible, place the dough in a square container, as this makes it later more easy to cut the dough into squares. Ferment for 2 hours, folding every 30 min the first 4 hours, then place the dough in the fridge. Ferment for  12-16 hours.
Heat the oven with baking stone to 250°C.
Shape half of the dough into a flat bread with a diameter of 35 cm. Let it rise for 30 min, then cut in 1.5 cm squares with a dough scrapper. Proof for another 30 min. In the meantime shape the second dough accordingly.
Bake the first bread at 250°C for 25-30 cm with steam in the first 10 min.
Bake the second bread accordingly.