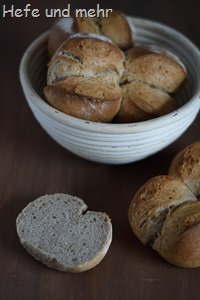 I like relaxed baking on weekend mornings. And so I often knead a dough in the evening and put it in the fridge to ferment over night while I dream sweetly. The next morning all I have to do is forming rolls, letting them rise a bit and placing them in the oven.
Following this principles I created the recipe for the Three Grainy Rolls during Christmas holidays. They are easy to make and so perfect for lazy holiday mornings. The dough contains three different grains: spelt, emmer and rye. This adds a deepness to the flavour which is enhanced by the cold fermentation in the fridge. Adding a bit of sourdough is optional, the recipe works well with out but with sourdough is flavour is even more enhanced.
Due to the butter in the dough the rolls have a fluffy crump which is perfect for breakfast. I love them most with a good amount honey!
Three Grainy
yields 10 rolls
150g rye flour Type 1150
100g Whole Grain Emmer Flour (or Whole Grain Spelt Flour )
250g Spelt flour Type 630
340g Water
10g fresh yeast
20g sourdough from the fridge (optional)
10g Salt
Knead all ingredients for the dough for 3 min at slow speed and 6 min at fast speed. The dough should be now soft, but not sticky.
Let the dough rise over night in the fridge.
Divide the dough into 90g portions and form them into round rolls. Place to rolls together and cut them lengthwise 3/4 deep into the dough.
Turn the rolls on the cut and let them proof for 60-75 min on a bakers couche.
Preheat the oven with bread baking stone  to 250°C.
Turn the rolls, so that the cut side face upside once again, and place in the oven. Bake with steam for about 20 min at 250°C. For really crisp rolls turn to convection mode during the last 5 min.