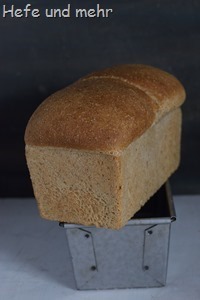 Step for Step I move nearer to my whole grain sandwich bread with a great amount of  ancient grain. After the variant of with 30% whole emmer flour and white wheat flour worked so well, I tried this time a spelt sandwich bread with 60% whole grain. I decided to use a whole egg instead of egg yolk, as the egg white helps to stabilize the crumb. The rose hip powder adds vitamine C which enhances the gluten network. Instead of rose hip powder you can use acerola cherry juice as well. A well developed gluten network is one key to a fluffy bread with a good volume. Butter helps to keep the crump tender.
I am very happy with the result. The flavour is nutty and mild, the crumb as fluffy as a good sandwhich bread should be. The next step is adding Emmer to the mixture…
Spelt Sandwich Bread (60% Whole Grain)
yields 2 Breads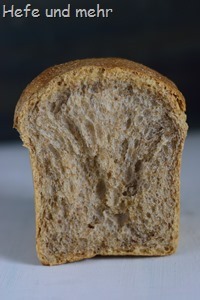 150g Sweet Starter
150g Spelt flour Type 630
75g Water
Soaker
600g Whole Spelt flour
575g Water (40°C)
Dough
Mix all ingredients for the Sweet starter and let it rise for 2-3 hours at 30°C.
Mix the ingredients for the soaker and let it soak for 2 hours.
Mix all ingredients for the dough and knead 8-10 min at slow speed to full gluten development .
Let the dough rise for 2 hours.
Now divide the dough in four equal pieces. Let the dough relax for 10 min, then form to round breads. Place two breads seam side up in each baking pan (for 750g).
Proof for 1.5 hours.
Preheat the oven to 250°C and bake the breads for 10 min with steam. Then release the steam and reduce the temperature to 220°C . Bake for another 45 min.