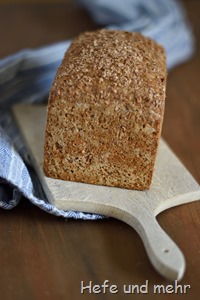 It was nearly 10 years ago when I stumbled over a sprouted grain bread. Susan from Wild Yeast baked it for Bread Baking Day with the theme "Bread with Sprouts". A long, long time ago… I can still remember…
But it needed a second encounter to make me thinking about it. This second time I tasted a bread from sprouted spelt on a bread market a year ago. And this time I was hooked. But as sprouting is time consuming I took some time to start this project. But the Easter holidays were perfect for a new adventure!
A important point when baking a bread with sprouted grain is controlling the enzyme activity. In this Brochure (published from the ministry of agriculture in 2008 ) they give the advice to keep the temperature at 15°C or below and to keep the layer of sprouted grain at 15 cm. To keep the temperature at 15°C is hart in a normal kitchen and so I decided to place the sprouts in the vegetable drawer in my fridge. Here the temperature lies about 11-12°C . At this temperature it took about 4 –5 days for my sprouts to grow. The second part of controlling  enzyme activity is using sourdough. Just like when baking with rye flour the low pH of the sourdough slows down or even stops the enzyms from working.  When keeping these things in mind, baking with sprouts is a simple thing and needs just sprouts (processed with a food grinder), sourdough and salt to bake a delicious and aromatic bread.
Sprouts
300g Spelt
cold water (15°C)
Soak the spelt over night in water.
The next mooring pour of the water and place the spelt in a glass or bowl. The layer of spelt should not be higher then 15 cm. Place at 12-15°C (e.g. warmth spot in the fridge). Rinse with cold water every 12 hours. Let the sprouts grow until they are half as long as the seed grain.
Sprouted Spelt Bread
Sourdough
150g whole spelt flour
150g Water
15g sourdough (very active)
Dough
Sprouts of 300g Spelt(see above)
Sourdough
9g Salt
10-20g water if needed
For sprinkling
For the sourdough, mix all ingredients and ferment for 14-16 hours at 25°C.
The next morning process the sprouts with the food grinder. Now mix the sprouts with sourdough and salt and knead at slow speed until full gluten development (about 8 min).
Ferment for about 90 min, folding after 20, 40 and 60 min.
Form the dough into along loaf. Grease a small bread pan (16 cm) and sprinkle with oat bran. Place the loaf in the pan and sprinkle with oat bran.
Proof for 60-90 min (depends on the activity of your sourdough)-
Bake at 250°C with steam, turn the temperature to 200°C after 10 min and bake another 40 min by falling temperature.