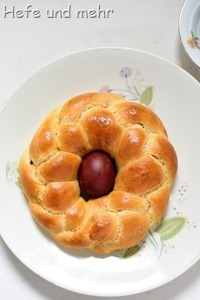 When we drove through snow- rain to meet with the family on Easter Sunday, I mused if todays Easter weather was colder then on Christmas Eve or not. But good weather or not we had a broad mixture of rolls and a greek easter braid with us.
The idea of baking tsoureki I had in mind since a readers question last year. And so I did some research and found the braid in many different forms and different ratios of ingredients. But two ingredients were a stable: Mastix and Mahlep.
Mastix is the resin of the pistachios tree, while mahlep are cherry pits form Prunus mahaleb. While grinding the spices to powder I realized that mahlep has an similar aroma than tonka beans: almond like and very delicious. As always, the flavours of a spiced bread are depending more on the spices then on the aroma of the preferment. But using a preferment is useful anyway, as it helps to strengthens the gluten network as well as improves the shelf life.
We enjoyed this greek Easter Bread with its fluffy crumb and almond like flavours very much.
Tsoureki
yields 3 small wreaths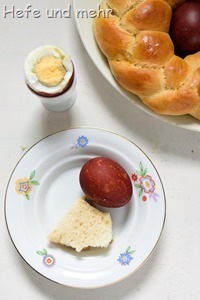 Pâte Fermentée
100g flour Type 550
70g Water
1g Salt
1g fresh yeast
Teig
Pâte Fermentée
400g  flour Type 550
210g Milk
50g Egg
9g fresh yeast
5g Salt
2g Mastix
4g Mahlep
60g sugar
100g Butter
Mix all ingredients for the Pâte fermente and proof it for 1 hour at room temperature. Then put the dough into the fridge for 12 hours.
Knead all ingredients except sugar and butter for 5 min at slow speed. Then knead 7 min at fast speed. Now add the sugar in small increments and knead until the sugar is incooperated before adding the next sugar. At last add the butter all at once. Knead to full gluten development.
Let rise overnight  for one hour temperature plus 1-2 hours in the fridge.
Divide into 110g pieces and roll into 35 cm long strands. Braid three strands and form a wreath.
Proof for 90 min.
In the meantime heat the oven to 210°C.
Brush the wreath with egg and bake for about 20 min at 210°C with Steam.