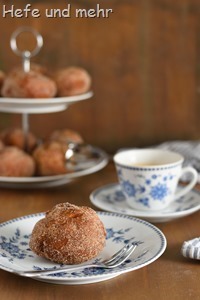 Baking fritters is something very typical for this season. And while I have still not much love for celebrating carnival, I like to bake fritters once in a while. These apple fritters were inspired by some left over miniature apples, we used as decoaration for our christmas. After christmas I kept this cute little apples in my open kitchen shelf for because they were to beautiful to eat. But now the started to shrivel and so apple fritter were my new idea for them.
When baking apple fritters you can find two kinds of recipes in Germany: Some are baked with a yeasted dough only, while others use a additional layer of Pâte à Choux to keep the apple piceses fixed in the fritters. I opted for the second variant and choose my favourite Pâte à Choux recipe and a standard yeast  dough. From there it was only a short way to a delicious afternoon treat…
Apple Fritter
yields 15 Fritters
Sweet Starter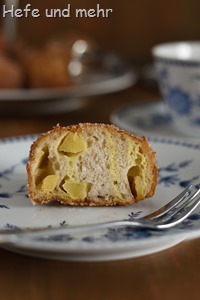 Dough
Süßer Starter
125g flour Type 550
100g Millk
5g fresh yeast
5g Salt
30g sugar
30g Butter
Pâte à Choux
115g Water
30g Butter
65g flour Type 550
3g Salz
100g egg (2 eggs size M)
Apple filling
200g apples, cut in small pieces
For frying
Coating
100g sugar
1 Tl. cinnamon
Mix the ingredients of the sweet starter and let it rise for about 1-3 hours at 30°C until the volume doubles.
Knead all ingredients except sugar and butter for 10 min at slow speed. . Now add the sugar in two increments and knead 1 min after add each portion of sugar. At last add the butter all at once. Knead to full gluten development.
Let the dough rise for 1.5 hours.
In the meantime prepare  the Pâte à Choux: Heat in saucepan water, butter, and salt until the mixture boils. Remove from heat, add the flour all at once and mix until all flour is incorporated. Place the saucepan on the stove again and whip at low heat for another 1-2 minutes, until the dough pull apart from the bottom.
Place the dough in a kitchen machine and mix for 1 min. Now add the egg one by one and whip in between until a smooth dough is formed.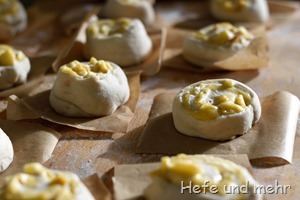 Roll the dough into a square of 30×30 cm. Spread with Pâte à Choux and scatter the apple pieces on the Pâte à Choux. Roll into a log and cut into 15 pieces (2 cm wide). Place on small squares of baking paper.
Proof for 60 min without cover. They have to develop a skin to prevent soaking with oil when frying.
Heat the oil to 150° – 160°C . Place the fritter upside down in the hot oil,  and remove the paper. Fry each Fritter for 1-2 min, two times each side in a closed pot.
After baking, turn them in a mixture of sugar and cinnamon while still hot.