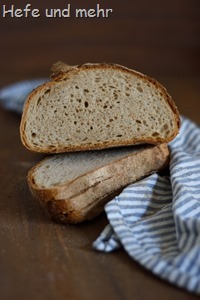 Already with the first recipe for my new "work day breads" there was the wish for recipes with some sourdough. Using a sourdough with a long, cold fermentation can cause problems with both the increasing acidity and the increasing enzyme activity. This can result in a weaker gluten network and a bread with less volume but with very chewy crumb.
There are two strategies to cope with this. The first one is using only a small amount of a very active sourdough. The second one is bowling the sourdough to inactivate microorganisms and enzymes. At the same time the starch gelatinise and binds water, which helps to enhance shelf life of the bread. This second strategy I choose for the summer evening bread.
It is a bread with 30% whole grain with complex flavour notes due to sourdough and long fermentation. The crust developes a beautiful dark golden hue, and the crumb is moist and tender. The time management is flexible, and it is no problem to keep the dough some hours more in the fridge when the summer evening is warm and you like to spent some more hours outside.
Summer evening bread
yields 2 breads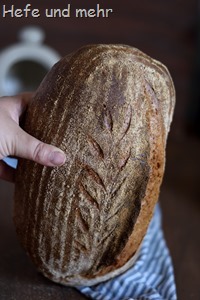 sourdough
50g whole wheat flour
50g Water
5g sourdough starter
boiled sourdough
Teig
boiled sourdough
250g whole wheat flour
700g flour Type 550
350g Water
20g Salt
20g Butter
5g fresh yeast
In the morning mix water, flour and starter for the sourdough and ferment for about 12 -14 hours at 25°C.
For the boiled sourdough mix sourdough with water and bring to boiling while stirring. Let cool down before using. Boiled sourdough keeps well in the fridge for about 1 week!
In the evening knead all ingredients 3 min at the slowest speed and 10 min at higher speed until medium gluten development.
Let rise in the fridge for 16-24 hours.
Divide the dough into two parts. Form to long loaves and place in the proofing basket seam side up.
Proof for 2 hours, heat the baking stone at 250°C in the meantime.
Prior to baking, slash the loaves lengthwise and place the breads in the oven with steam. Turn the temperature back to 180°C after 10 min, relase the steam and bake the bread for another 45 min .
To enhance a crisp crust: Let the bread cool down for at least 30 min (or overnight), then heat the oven to 250°C and bake the bread on a cooking grate or baking sheet for about 15 min.