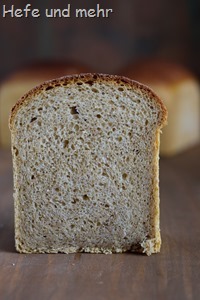 I got a bit to optimistic when I tried the first version of this bread. Adding a big portion of  very ripe pâte fermentée was not the best of my ideas, as this brings to much enzymes in the dough and has the same effect like adding sourdough. After 24 hours proofing time the dough was still stable, but the resulting bread lacked volume. A sure sign that the gluten network already started to decline.
And so I put the recipe back on my worktable and sat down to write a better version. This time it is a straight dough which develops its flavour during the long fermenting time. Yoghurt and good portion of whole grain flour adds another aromatic notes to the loaf. In this combination, the dough is stable over the course of 24 hours and the breads have a nice volume. Which can be seen in their crumb, too. It is soft and fluffy and can be toasted very well, too! A perfect bread for breakfasts and lunch boxes!
Weeknight loaf
yields 3 breads
Dough
500g flour Type 550
300g whole wheat flour
200g rye flour Type 1150
400g Yoghurt
390g water (plus 30g if needed)
25g honey
30g Butter
10g rose hip powder (optional)
5g fres yeast
20g Salt
knead all ingredients 3 min at the slowest speed and 10 min at higher speed until medium gluten development.
Let rise in the fridge for 16-24 hours.
Divide the dough into three parts. Form to long loaves  and place in grease baking pan (16 cm, 500g) side down.
Proof for 2-2,5hours at 30°C . In the Meantime preheat the oven to 250°C
Bake for 10 min at 250°C with steam. Then reduce temperature to 220°C , relase the steam and bake the bread for another  35 min . Then remove the bread form the form and bake another 5-10 min to ensure an overall crisp crust.