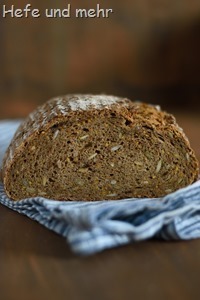 This is a typical blogger problem during the winter months: the daylight vanishes at the same time I pull a bread from the oven. If the day was bright enough for nice pictures anyway. The problem can be easily solved with a foto lamp. But with a broken bulb, my studio lamp was as useful for nice pictures as a coat hanger. And so I put one loaf in the freezer and ordered a new LED bulb. Until it was delivered, the weather cleared, too and I was finally able to take a nice picture with daylight.
And I'm very happy, as I like this bread very much. It is a perfect every day bread for lovers of sunflower and pumpkin seeds.
Malty Bread with Seeds
yields 2 Breads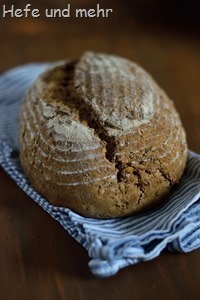 Sourdough
20g rye sourdough
200g rye flourType 1150
200g Water
Soaker
120g cracked lupin seeds (eatable Variety!)
120g sunflower seeds
120g pumpkin seeds
160g Rolled malted Rye
350g boiling Water
Dough
sourdough
800g flour Type 550
450g Water
50g Butter
10g roasted Malt
20g inactive Malt
20g Salt
15g fresh yeast
Mix the ingredients of the sourdough and let it for 12-16 hours at 25°C.
For the soaker roast the seeds in a pan, add the rolled rye and mix with boiling water. Let soak for two hours.
Knead all ingredients 5 min at the slowest speed and 8 min at higher speed until medium gluten development. Now add the soaker and knead until well combined.
Let rise for 1.5 hours
Divide the dough into two parts and form to two oval breads. Place in two floured proofing baskets.
Proof for 1.5 hours.
In the meantime heat the baking stone at 250°C .
Place the loaves on peels and slash lengthwise (make some shorter, decorative slashes if desired). Place the breads in the oven with steam. Turn the temperature back to 190°C after 10 min and bake the bread for another  40 min .