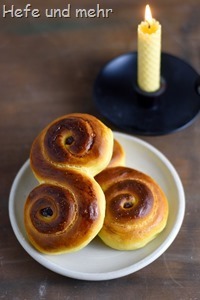 It's been a long time, since I published my first Lussekatter recipe. Back then I learned that in Sweden you can find two different types of recipes: one with quark, and one without. The variant with quark was on my to do list ever since.  And I had a recipe draft ready already three years ago. But an ugly flu stopped me baking back than and two Saint Lucia Days passed without me baking Lussekatter. But this year, finally, I managed it!
The Lussekatter with Quark are delicious. A hint of cardamom rounds the flavour but stays in the background while saffron is the main flavour component. Like my favourite Zopf-Recipe I replace part of the butter with cream, so the dough or the formed rolls can rise in the fridge, too.
Lussekatter
yields 12 Lussekatter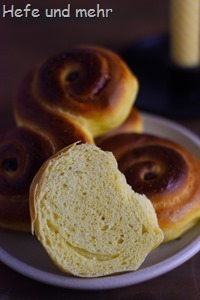 Biga
160g flour Type 550
80g Water
1g fresh yeast
Saffron paste
0,5g Saffron
1g cardamom
5g sugar
50g cream (boiling)
Dough
340g  flourType 550
100g Quark
90g cream
50g water
15g Egg yolk
8g fresh yeast
5g Salt
75g  sugar
50g Butter
Decoration
Mix the ingredients of the biga and ferment in the fridge for at least 16 hours.
For the Saffron paste grind cardamom, sugar and saffron finely in a mortar and mix with boiling cream. Let cool to room temperature.
Knead all ingredients except sugar and butter for 5 min at slow speed. Then knead 7 min at fast speed. Now add the sugar in small increments and knead until the sugar is incooperated before adding the next sugar. At last add the butter all at once. Knead to full gluten development.
Let rise for 2 hours .
Divide the dough into 80g Portions and preshape (like for Baguettes). Roll into 45cm long strands. Curl both ends up to the middle forming a "S". Place a raisin each in the center of the spiral.
Proof for 90 min.
After proofing brush with egg and . Bake at 220°C for about 12-15 min with steam.