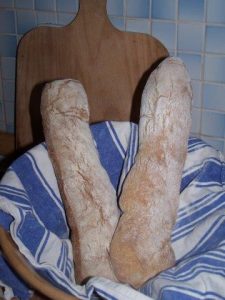 Pane francese is italian and means french bread. It is the Italian version of baguette. Having the look of a ciabatta, the crumb is similar to a baguette.
It is a very tasty bread with a rustic look, that contains a small amount of whole wheat flour and such a minimal amount of yeast, that I really doubted that the dough would rise.  But never underestimate these small creatures. The long fermentation period give them enough time to proliferate and the bread had a nice oven spring.
Pane Francese
Yield 8 loaves of  250g
Poolish:
250g Water
250g  flour (Typ 550)
1g  yeast
Dough:
800g  flour (Typ 550)
200g  whole wheat flour
750g  water
25 g salt
1g  yeat
Mix water, flour and yeast for the poolish and ferment it overnight (10 to 12 hours).
The next mornig: Knead flour, 700g water and poolish  untill it is homogeneus (aroung 1 min). Let rest for 1/2 hour (Autolysis). In the meantime disolve the yeast in the remaing water.
After Autolysis: Knead the dough for 5 min, now add the salt and the yeast-water in small portions. Wait untill one portions is complete incorporated before adding the next one.
The dough is a little bit sticky now, but that is ok.
Now place the dough in a good oiled container and ferment for 3 hours. Give the dough three folds during this time.
Folding: Flour your countertop and  put the dough on it. Flat the dough carefully to a square. Now fold the right and the left side to the middle, then from button and top, too. You can find a nice tutorial here.
After proofing flat the dough carefully to a square (around 3 cm thick), cover the surface with flour and cut it in 8 Strips. Strech each stripe to a length of 35 cm.
Proof  them for 45 min.
In the meantime heat baking stone in the oven to 250°C.
Bake the loaves on the hot stone for 25 min with steam, until the crust is golden brown.
Wer viele beeindruckende Brote sehen möchte, sollte Susans wöchentliches Yeastspotting besuchen.