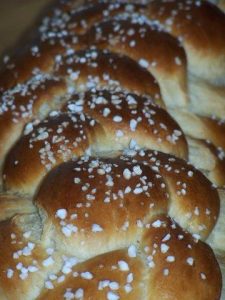 I am fear, that I am infected with the "baking braided Bread Fever". After baking Eggbread two weeks ago, I had to try the next braided bread from "Advanced Bread and Pastry". The Challah is a traditional jewish holiday bread, and my recipe is, as I learned now, not correct, because ist contains dairy products. But nevertheless it is a delicious bread.
The recipe is similar to the recipe for eggbread, yielding a bread with a nice pillowlike crumb.
This time I do a six-strand after this instructions.
Challah
Pâte fermente:

210 g flour (Typ 550)
145 g water
1g fresh yeast
4g salt
Hauptteig:
360 g flour (Typ 550)
160 g milk
10 g salt
der whole pâte fermente
100 g egg
85 g sugar
110g Butter
Topping

1 egg, lightly beaten
pearl sugar
Mix all ingredients for the Pâte fermente and proof it for 1 hour at room temperature. Then put the dough into the fridge for 12 hours.
Dissolve the yeast in milk, then knead in the kitchen machine with eggs, salt, flour and Pâte fermente for 5 min at slow speed.
The knead 7 min at middle speed. Because the sugar inhibits the gluten development, the sugar is added just now. Add always a tablespoon at once and knead in between always for 1 min. At last add the butter all at onc and knead untill the butter is completly incooperated.
Proof for one hour.
Divide the dough into six strands and braid it.Proof for 1 hours.
After proofing brush again with egg and sprinkle with pearl sugar. Bake at 175°C for about 40 min with steam.