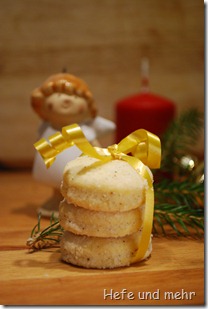 When Zorra asked for a theme for my post in her culinary advent calender I had to think for a long time. Christmas seems so far away in October!
At the end I decieded to post a about Podvodnik. Its a cookie recipe that use yeast to rise the cookie. A perfect recipe for my blog, because "Hefe und mehr" means "Yeast and more"!
Podvodnik is czech and means sweet liar. I found the recipe on the homepage of Radio Praha and I was fascinated from the way the dough is prepared. The dough contains no sugar and it ferments one hour in a bowl with cold water. The sweet taste comes from rolling the hot cookies in vanilla flavoured powdered sugar. That sounds strange but it tastes great: a sandy cookie with a nice taste of vanilla. A little bit like vanilla crescents, but somehow different. Delicious!
Podvodnik

Dough
200g flour (Type 405)
150g butter
1 egg
15g fresh yeast
1 Prise salt
For Dusting

50g sugar
1/2 vanilla bean
Knead flour with salt, egg yolk, yest and butter. Rest the dough for one hour in a bowl with very cold water. Then roll the dough thinly and cut round cookies with a cookie cutter.
Place on a paper linned baking tray and bake at  175°C for about 15 min untill golden. Baking time depents on the size of the cookies so check the cookies in between. When the cookies are a little bit soft when they come out of the oven but get crisp after cooling.
for the vanilla powdered sugar place sugar and vanilla bean in a food processor and mix untill a powder forms. Sieve before using. Roll the into vanilla powdered sugar when they are still hot.
Und wie im jeden Jahr sollte man alle Türchen des Adventskalenders aufmerksam lesen, denn am Ende gibt es einen Wettbewerb mit vielen tollen Gewinnen!