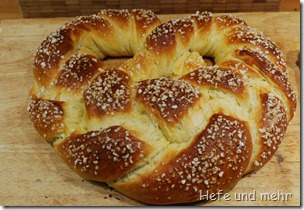 Every year I bake a New year's pretzel at 31. December which we eat on new year's morning. This year we came back late in the night of 30. December, so I was to tired to prepare a pâte fermentée for this recipe. So I decided to create a recipe similar to the weckmann recipe using water roux. Water roux makes the bread soft and fluffy and enhances shelf life.
New Year's Pretzel
Water roux
30g flour Type 550
150g milk
Preferment
125g flour Type 550
125g water
10g fresh yeast
Dough
whole Water roux
whole preferment
350g flour Type 550
75g egg (this is about 1,5 eggs, beat them lightly before weighing and save the remaining egg for the egg wash)
75g milk
75g butter
75g sugar
Zum Bestreichen
remaining egg
pearl sugar
Mix all ingredients for the Pâte fermentée and proof it for 1 hour at room temperature. Then put the dough into the fridge for 12 hours.
For the water roux whisk water and flour untill lump free, then heat it up to 65°C (needs about 3 min) while whisking. Fill the water roux in a bowl, cover its surface with cling foil and let it cool down to room temperature.
Dissolve the yeast in milk, then knead in the kitchen machine with eggs, salt, flour and Pâte fermentée for 5 min at slow speed.
The knead 7 min at middle speed. Because the sugar inhibits the gluten development, the sugar is added just now. Add always a tablespoon at once and knead in between always for 1 min. At last add the butter all at once and knead until the butter is completely incooperated.
Ferment for one hour, fold one time in between.
Divide the dough into three pieces and roll into strands of 70 cm length and braid it. Form the braid to a pretzel.
Proof for two hours.
Glaze with whisked egg and sprinkle with pearl sugar.
Bake at 200°C for 35 min.
[tab:END]
Wer viele leckere Brote sehen möchte, der sollte bei Susans wöchentlichen Yeastspotting vorbeischauen. Ein Besuch dort bringt immer viele neue Ideen!