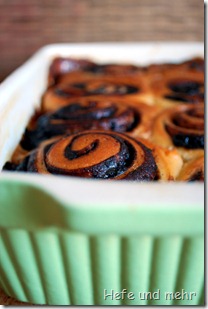 They are baked in so many german Food-Blogs at the Moment : Anikós cacao rolls. It took me a while to jump on this bandwagon because I have a lot of work in lab but last weekend I managed somehow to bake them. And I can just repeat that everyone said before: They are divine. Fluffy with the taste of semisweet chocolate, just what you need when you come home after working most of Sunday in lab.
I changed the recipe a little bit (Am I always writing this sentence? I fear that I do this.) The biggest change is that I double the sugar amount in the dough because Zorras mentioned in her post that the rolls are not sweet enough. Then I used a pâte fermentée, but I am sure that the recipe will work without it, too. And then I add a little bit of cardamom into the filling, like Hedonistin did.
Cacao rolls – Kakaós csigák
Pâte fermentée (optional):
115g flour Type 550
80g water
2g Salt
1g fresh yeast
Dough:
optional: all of the Pâte fermentée
500 g flour type 550
50 g soft Butter
10g fresh yeast
300 ml milk
1 Egg
50g sugar
1 Prise Salt
Filling:
4 tbsp powdered sugar
4 tbsp natural cacao powder
1/2 tsp ground cardamom
For Soaking:
Mix all ingredients for the Pâte fermentée and proof it for 1 hour at room temperature. Then put the dough into the fridge for 12 hours.
Mix all ingredients for the dough 3 min at slowest speed, then around 6 min on fast speed until complete gluten development
Ferment for 1.5 hours.
Mix cacao, powdered sugar and cardamom.
Flatten the dough to a rectangle and coat thickly with the filling. Roll it from the long side rather loosely into a log. Cut in 3 cm wide slices, place in a greased form and proof for one hour.
Bake at 175°C for 15min. In the meantime melt the butter in the milk.  Now pour the milk-butter-mixture over the rolls and bake for another 20 min.
I submit this post to Susans Yeastspotting, Susans weekly showcase of yeast baked goods.