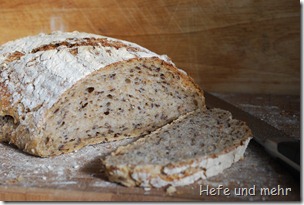 When Steve of Bread Cetera posted a recipe for Multigrain bread recently I knew that this is a recipe I had to try because I love any kind of Multigrain bread!
I changed some smaller details of the recipe due to my pantry: I replaced sunflower seeds with sesame seeds because sunflower seeds survive seldom long enough in our pantry to go into a bread dough. Then I used cracked spelt instead of cracked wheat just because I liked to add another grain into the dough and then I did not get any high gluten flour here so I bake it with normal flour (Type 550). I think that the missing high gluten flour is the reason why I did not get a so open crump! But missing open crumb do not effect the taste! The bread is very delicious, a bread I will bake again!
Multigrain bread
Levain
125 g flour Type 550
125g wheat, freshly milled
315 g Water
50 g Sourdough Starter (100% Hydration)
Soaker
95 g Cracked spelt
95 g Flaxseeds
75 g Sesame Seeds
75 g Cracked Oat
405 g Boiling Water
7 g Salt
Final Dough
625 g flour Type 550
125 g wheat, freshly milled
360 g Water
15 g Salt
5 g fresh yeast
560 g Levain (a small amount of the prepared levain is discarded)
All of the Soaker
Mix water, flour and yeast for the levain and ferment it overnight (about 12 hours).
For the soaker mix the dry ingredients, then add the boiling water. Let soak overnight.
On the next day, use the whisking attachment of the kitchen machine to whisked the levain with 340g water and 125g flour to a well aerated batter(1 min). Now exchange the whisking attachment to the dough hook and add the remaining flour. Knead until it is homogeneous (around 1 min). Let rest for 1/2 hour (Autolysis) In the meantime dissolve the yeast in the reaming water.
After Autolysis: Add the dissolved yeast and knead the dough until 2/3 of the gluten developed (5 min), now add the salt.
Now place the dough in a good oiled container and ferment for 2 hours. Fold the dough one time in between.
Divide the dough into three pieces and preshape them into rounds and allow them to rest for 15 min. Now shape them into batards and place them into well floured breadforms.
Proof for 2 hours.
Preheat the baking stone for 1 hour at 250°C and bake them for 40 min with steam.