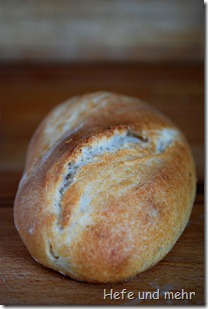 I am still on my quest for the perfect crumb in my rolls. The crumb should be light and fluffy under crispy crust. And at Yeastspotting there are always inspiring entries. This time the Bahn-Mie-Baguettes of Drfugawe caught my  eyes.  After reading the post on "The lost world of drfugawe" I was hooked. Adding blended rice to the dough of this vietnamese baguette should make the crumb velvety and light. This is something I had to test!
Because there was no left over rice I had to cook rice very long, so it get very soft. The next morning it was very easy to blend the rice with the food processor.
The rolls are not the perfect breakfast roll I was aiming for, but they are great mini baguettes for lunch at work. The baguettes has a great oven spring and the crumb is wonderful open. And I did not stretch and fold the dough during fermenting! The next time I will test if the crumb would get a even more open when I fold the dough two or three times.
Baguette Rolls
yields about 12 rolls
Rice (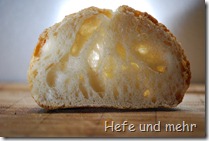 yields 200g very soft boiled rice)
Sourdough
20g Sourdough Starter
250g flour type 550
250g water
Dough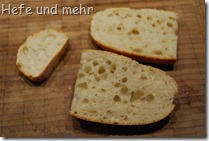 200g boiled rice
all of the sourdough
120g water
500g flour Type 550
30g oil
15g salt
10g fresh yeast
Place rice and water in a pot and simmer it for about 50 min until the rice is very soft. Strain and let cool down over night.
For the sourdough mix water, flour and starter and ferment it overnight (12 to 16 hours).
The next mornig: Mix all incredients for the dough and knead it for about 3 min at low speed, then 6 min on high speed untill medium gluten development.
Ferment the dough for 60 min at 28°C.
Devide the dough into pices of 85g and form them to light balls. Rest them for 20 min.
Form to small baguettes. Proof for 1 hour. If your oven is to small for baking all baguette rolls at once, place part of the rolls into the fridge after 30 min.
In the meantime heat the baking stone at 250°C.
Slash the mini baguetts two times and bake them for 20 min with steam.