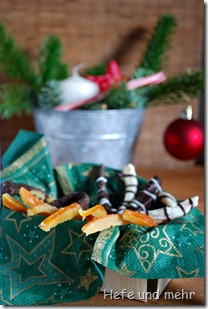 While last year I need a lot of time to find a recipe for Zorras culinary Advent calendar this year it was very easy for me to decide what to prepare. In October when Zorra asked us to send her the title of our posts I spent some time to find the perfect method to candid orange peel. I needed some tries until the recipe worked for me. And the recipe that results from my tests is surprisingly easy and the candid orange peel are really delicious. And when you coat them with chocolate make them even better, a kind of orange praline.
My recipe is very similar to the recipe I found in the "Schrot und Korn" from December 2009, but I let the peels infuse longer in the sugar syrup and I heat the syrup up to 108°C so the sugar will crystallise while the peels dries. For me this method is better then coating the peels with extra sugar after the process of candy.
Candied Orange peel
1 l water
250g sugar
4 untreated (organic) Oranges (you need the just peel)
Peel the Orange in long pieces and cut them in 5 mm Stripes. Heat water with orange peels and sugar until boiling then reduce the heat to low heat and simmer for 2 hours. Let the peels cool in the syrup and infuse for 24 hours. Now heat again to 108°C (strong thread), let cool a little bit (so you do not burn your fingers) and place on a candy rack. Let dry until the peels are not sticky any more.