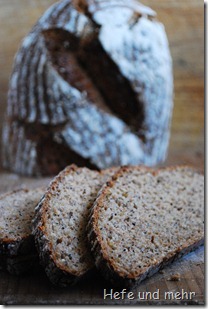 Slowly I bring the recipes on the blog up to date again. In the last two weeks I was extremely busy again so that I manage to bake bread and other things but did not have the time and energy to blog about it.
I work at the moment again fulltime on our paper like in last autumn, to add some data the referees asked for. And like always in life (or lab) if you working under time pressure something will not do the job as you planed it. That's the bad thing when working with living plants. I am pretty sure that they giggle very meanly when I enter the lab!

And then there was also a bad cold, a broken fridge and the preparation of a talk I had to give. But this weekend I take a break from lab work and everything else is fine again, too and started to post all of the things I  bake.
The four grain yoghurt bread I bake last weekend. Due to a little spring cleaning in my grain storage it is loaded with healthy grains and tasty seeds. It has a nice dense crumb because of all the grains and has a nice nutty taste because of the roasted seeds. Continue reading →