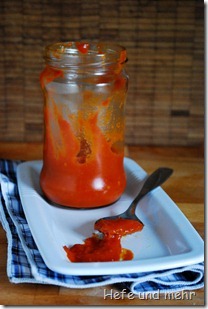 Ketchup should taste of fruity tomatoes, a little bit sour and sweet. When we were craving for a Curry Ketchup some time ago I filled through "Vegetarian Basics" from Sebastian Dickhaut and Cornelia Schinharl and found a nice recipe.
To add pineapple to a ketchup sounds a little bit strange but nothing ventured, nothing ganined!
And so we started cooking. We didn't stick to the recipe (what is normal for me). We did not peel the tomatoes (too much work) and add more curry, tomato paste and some  vinegar. Without vinegar the ketchup was only sweet, but the vinegar makes it round.
Now is the mixture perfect: sour and sweet, fruity and hot.