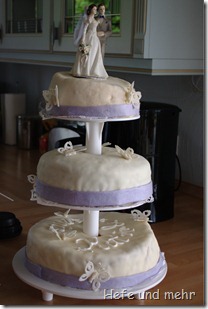 My little sister married end of april. And to my great joy she asked me if I would bake the wedding cake.
After talking a little bit with her and my (then still future) brother in law we decided that I bake a three tired wedding cake consisting of a raspberry white chocolate torte (28 cm diameter), a Sachertorte (24 cm diameter) and a lactoste free vanilla cream torte (18 cm diameter).
I calculated that I would need two days to make the cake: one for baking the raspberry white chocolate torte and the vanilla cream torte and one for decoration. Our Mum baked the Sachertorte after the recipe of Oma Bucholtz (fund at Schnuppschüss) 10 days before the wedding because this cake needs a long rest before serving.