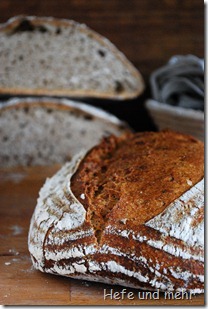 Whenever Martin posts a new Bread recipe I read the recipe attentively. His simple recipes and methodes are always worth a try.
This time he was inspired from Tartines Book Bread (its on my wishlist, too) and proofed his bread overnight in the fridge. For the dough he tested both kneading the dough with the kitchen machine and his gentle folding methode and both worked fine for him.
I changed the recipe a little bit (something that wouldn't surprise anyone) because I don't like to eat only white bread during the week. When I eat white bread I get hungry again much to fast. That does not happen when I eat bread with whole grain. And so I replace one third of the flour with whole spelt flour.
The bread I drew out of the oven is delicious, with an open crumb and a thick crust.  It taste complexly of sourdough and whole grain, mild and not very sour. And it's not complicated, it only needs a little bit time and scheduling. A new favourite!
Light Wheat-Spelt Bread with Sourdough
Sourdough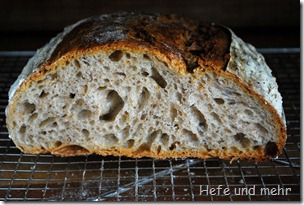 130g flour Type 550
70g spelt, freshly milled
140g Water
75g sourdough starter
Dough
340g sourdough
230g spelt, freshly milled
470g flour Type 550
500g Water
3g fresh yeast
18g Salt
Morning: Mix water, flour and starter for the sourdoug and ferment it  for8 hours at 25°C.
Evening: Dissolve the yeast into the water and add the mixture to the other ingredients in a big bowl. Mix all ingredients for the dough. Let it rest for 30 min, then fold it from the outside of bowl into the middle for three or four times. Let rest for 30 min again, then fold the dough and repeat the resting and folding steps one time more. Ferment the dough 1 hour at room temperature.
Shape the dough into two oval loaves and proof overnight in well floured breadforms in the fridge.
The next morning: Heat the baking stone at 250°C for one hour.
Slash the loaves directly before baking.Bake for 40 min at 250°C with steam on a hot stone.
I send this bread to Susans Yeastspotting, a weekly showcase of yeast baked goods