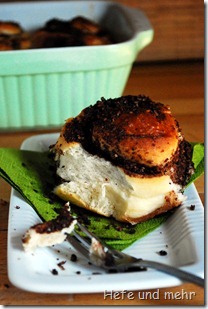 About one and a half year ago every german food blogger seemed to bake cacao rolls. Anikó blogged the tempting recipe and everyone had to test it, myself included.
When I saw the chocolate hazelnut rolls on The Patterned Plate I had to think about these rolls once again. But this rolls are also filled with hazelnuts (as the name suggested

). The description of a nutella-ish taste was so mouthwatering that I had to bake such rolls at the same weekend.
I decided to use another recipe for the dough because I was dreaming of heavenly soft and fluffy rolls. The dough is not so easy to handle but its worth the work because the rolls rise to be as light as a feather. I let them rise overnight in the fridge, it is a convenient method to get sweet rolls for breakfast without a lot of fusing in the morning and the slow rise contributes to the good taste, too.
I added some Cardamom and Cinnamon to the filling – just a tiny little bit to the spices in the background without overpowering the hazelnuts and the cacao. And I pour some boiling milk over the rolls after one third of the baking time, a trick I borrowed from the cacao roll recipe to make the rolls extra soft.
I'm very happy with this recipe. The crump of the rolls is so light and soft and the filling taste of bittersweet chocolate and nutella, with a hint of cardamom and cinnamon. Really delicious!
Hazelnut cacao rolls
Pâte fermentée
115g flour Type 550
80g Water
2g Salt
1g fresh yeast
Water roux
30 g Flour Type 550
150g Water
Dough
425g flour Type 550
150g Milk
80g Egg white (von 2 eggs size L)
50g sugar
50g Butter
5g Salt
5g fresh yeast
Filling
50g cakco
200g hazelnuts, grounded
100g sugar
1/2 Tsp. Cardamom
1 Pinch Cinnamon
50 g Butter
For Soaking
Mix all ingredients for the Pâte fermentée and knead for 3 min, then ferment it for 1 hour at room temperature. Then put the dough into the fridge for  at least 12 hours.
For the water roux whisk water and flour until lump free, then heat it up to 65°C (needs about 3 min) while whisking. Fill the water roux in a bowl, cover its surface with cling foil and let it cool down to room temperature.
Dissolve the yeast in the milk, add flour, egg white, water roux,  and Pâte fermentée and knead 5 min at slowest speed, then around 11 min on fast speed until complete gluten development. Now add sugar and butter and knead for about 2 min until butter and sugar are complete incooperated.
Ferment for 1.5 hours.
Mix cacao, grounded nuts, sugar, cinnamon and cardamom.
Flatten the dough to a rectangle, spread with butter and coat thickly with the filling. Roll it from the long side rather loosely into a log. Cut in 5 cm wide slices, place in a greased form and proof for one hour.
Bake at 175°C for 15min. In head the milk until it cooks.  Now pour the milk over the rolls and bake for another 30 min.
I submit this post to Susans Yeastspotting, Susans weekly showcase of yeast baked goods.