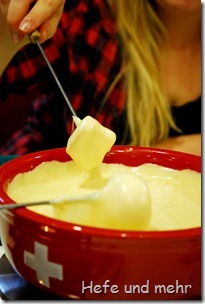 I have to take one look back at christmas. Every year we have a cheese fondue with the family at the 26. December which normally is prepared by my grandaunt. It started once small with my grandparents and their daughters, but nowadays we have to rend a room because for all the children plus partners, the grandchildrens with partners and the contiously rising number of great-grandchildren is no space in grandmothers kitchen anymore.
I normally help my grandaunt with the her preparations (continuously stirring the melting cheese). This year she called to ask me if I could do the cheese fondue on my own because she fell down a stair and had some broken ribs. She already bought everything needed and would write me a recipe, and would be around if I had questions. I said yes, of course. The recipe get lost when she and my granduncle travelled to us, and so she wrote down the short version for me: 5.5 kg cheese, 3 litre white wine, 6 teaspoons starch for each pot (4 pots at all). This is the amount for about 25 persons – most of the small kids prefer chocolate fondue.
I calculated it down for 5 persons:
Cheese fondue (a la Erika)
550g Gruyère
550g Emmentaler
600 ml dry white wine part 1
6 Tsp. Starch
40 ml dry white wine part 2
2 Tbs. Kirsch
1 clove garlic (optional)
Fondue spice
Place wine part 1 in a pot and heat it until the first bubble appear but before it starts boiling. Now add the ground cheese and stir continously until the cheese is molten. Mix Starch with Wine part 2 and stir this into the cheese mixture. Continue stirring until the cheese starts to thicken, now season with garlic, cheese and Fondue spices. Fill in the Caquelon and serve directly.