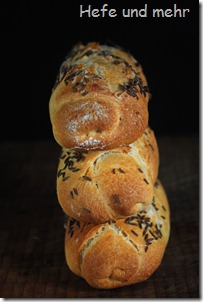 Since weeks I am longing for bread with caraway seeds. Or for Caraway seed rolls sprinkled with caraway and fleur de sel. These are so delicious that I need nothing else then a little bit of butter with them.
And last weekend I finally found the time to bake these rolls. I made a dough containing sourdough which goes well with the flavourful seeds and some commercial yeast to keep the proofing time shorter.
The Caraway seed rolls match exactly my expectations: a soft crumb with a thin crunchy crust, which is covered with little salt crystals and caraway seeds. When I take them out of the oven they smell so tempting that I eat on while it was still hot from the oven.
Mmmh….
Caraway seed rolls
Sourdough
15g Sourdough
150g flour Type 550
105g Water
Dough
Sourdough
450g flourType 550
250g Water
40g Butter
10g Salt
5g fresh yeast
Topping
Fleur de sel or coarse sea salt
caraway seeds
Mix water, flour and starter for the sourdough and ferment it  for 12 to 16 hours at 25°C.
Mix ingredients for the dough and knead it for about 5 min at low speed, then 3min on high speed until medium gluten development. Now reduce the speed to low speed again and add both soakers. Knead until well combined.
Ferment the dough for 60 min.
Divide the dough into pieces of 85g each and form them to light balls. Rest them for 20 min.
Flatten the pieces to thin ovals and rolls them tightly into logs. Moisten the sureface of the rolls with some water and sprinkle them generously with caraway seeds and fleur de sel. Proof for 60 min.
In the meantime heat the baking stone at 250°C.
Slash the rolls two times prior baking. Bake at 250°C for 20min with steam.
I sent this entry to Yeastspotting, Susans weekly showcase of yeast baked good.