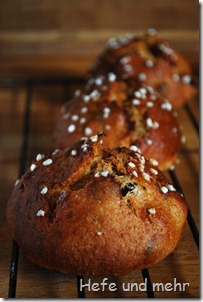 I love to eats raisin buns. The boy friend has a reverse opinion on the topic of "dried grapes". He tends to mention "murdered grapes" then and suggest to eat them better fresh instead of drying them.
And so there are seldom raisin breads, or raisin buns or apple cake with raisin and I bake most of the time goods we enjoy both. But sometimes I get a craving for raisins.
And that happened to me when I saw the beautiful spicy buns on farine. Sweet rolls with a lot of wholewheat, raisins and cranberries, seasoned with a mixture of cinnamon, cardamom and anise. I had to bake these rolls immediately. I added a little bit of my Lievito Madre to the dough to add some deepness of flavour and decreased the amount of yeast accordingly. My dough contains also a little bit more raisins, just to prevent myself of storing the remaining 20g of raisins somewhere in my little kitchen.