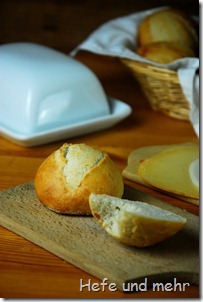 The submission deadline for Bread baking day moves nearer. And since this time I am the hostess of BBD, I should post my "overnight" recipe in time!
And so I have here a recipe for Sunday rolls which is prepared on Saturday around lunchtime. Due to the fact that the yeast amount is so small, the dough can rise about 16 hours at room temperature without any problem and the long fermentation creates a complex flavour. The next morning I will then form the rolls and let them rise during heating my baking stone. Two hours later the still a little bit sleepy boyfriend and me will sit on the breakfast table, enjoying fresh coffee and oven fresh rolls.
When I need a bigger amount of rolls I tend to form the first batch, wait about 20 min and then form the second batch. So all of the rolls go into the oven at the point where they are perfectly proofed.