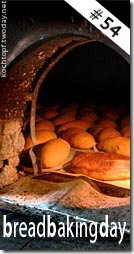 It's been three years ago that I hosted Bread Baking Day, a  blog event which was created by Zorra about five years ago, and we had a great round-up with 48 delicious Sweet Breads. And here I am again, honoured to be hostess of Bread Baking Day #54, too!
After Zorra presented us  a great round-up with 342 breads from all over the world at the World Bread Day 2012 last month, it was time for me to think about a theme for Bread Baking Day in november. And while last time I needed to think a while to find the right theme, this time it was very easy for me . During the last – often very busy – year, I became a big fan of overnight recipes. There are so many possibilities to make overnight breads or rolls!  And so I decided it would be great to use BBD to gather ideas for overnight breads and rolls.
And so the theme of this month BBD is "Overnight"! You could proof your dough or the loaves and rolls in the fridge or even at room temperature.  Play around with a recipe you like and converted it in a overnight version or test something completely new. I'm very curios about your creations!
How to participate in BDD #54:
Bake a overnight bread / rolls, take a picture and blog about it.
Please link back to this announcement in your post, and eventually to the roundup.
Fill in the submission form below and your post will be listed in the roundup. The asterisk marks the required fields. You will get a mail when submission is done, but be patient, it can take about 5 to 10 min until you get the notification.
Your recipe can be written in every language you like but please remember that English is the language that most of us understand, so it would be nice if you include a translation (for example with google translator) in English.
Last day of submission is December 1st, 2012.
[si-contact-form form='1′]