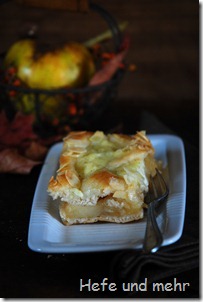 During autumn, one of the most used fruits in our kitchen is apple. And when I wake this morning very early around due to the change from daylight saving time to winter time, I decided to knead the shortcrust for apple cake Elfriede. And while the dough is resting in the fridge I have time to blog about the apple cake I bake last weekend. I found the "Ammerländer Apfelkuchen" on Chili & Ciabatta and fell in love with the mixture of apple compote and custard which is used for the filling. Because I always cook custards without the help of convenient products I used Petras Recipe as inspiration, but with my own dough (with a preferment and less yeast) and a  homecook custard. This apple cake is now the new favourite of me. It has a soft apple filling, topped with rich custard, butter, sugar and almond slices.  The compote filling reminds me a little bit of the Rheinischen Riemchenkuchen. And due to this filling, it stays fresh for some days!
Ammerländer Apfelkuchen
Poolish
125g flour Type 550
125g Water
1g fresh yeast
150g cream
30g flour Type 550
Dough
Poolish
Milk Roux
400g flour Type 550
55g Egg (1 Eg  size M)
65g egg white (2 egg white)
5g Salt
10g fresh yeast
100g sugar
1 tsp homemade vanilla sugar
Vanilla custard
500g Milk
1 Vanilla bean
2 Egg yolk(40g)
30g Starch
40g sugar
Apple compote
1, 5 kg windfall apples(1 kg peelt and cut apple)
50g sugar
1/2 Tsp cinnamon
150g Water
Topping
50g sliced almonds
50g Butter
30g sugar
Mix water, flour and yeast for the poolish and ferment it overnight (12 to 16 hours) at room temperature. For the milk roux whisk water and flour until lump free, then heat it up to 65°C (needs about 3 min) while whisking. Fill the water roux in a bowl, cover its surface with cling foil and let it cool down to room temperature. Mix flour, eggs , milk roux, poolish, salt and yeast and knead 5 min at slowest speed, then around 8 min on fast speed until complete gluten development. Now add sugar and knead for about 2 min until it is complete incooperated. Ferment for 1 hour. In the meantime prepare the apple compote and the custard. For the compote peel the apples and remove all brown parts and the core and cut the apple in small pieces. Cook until the apples are soft but still keep their shape. Cooking time depends on the sort of apples and differ between 5 – 10 min. Let it cool to roomtemperature. For the custard mix egg yolk, starch, sugar and 3 Tablespoons milk. Bring the remain milk and the pulp of the vanilla bean to boil and stir in the egg yolk mixture and continue stirring until the mixture thickens. Remove from heat and fill the pastry cream in a bowl and cover the surface with cling film. Let it cool to roomtemperature. Half the dough and roll both halves thinly to the the size of a baking tray. Lay one on a paper lined baking tray and cover evenly with apple compote and cover with the second sheet of dough. Ferment for 45 min Using a spoon make imprints on the dough and fill them with the vanilla cream. Top with little pieces of butter and sprinkle with almond slices and sugar. Bake at 175°C for 35 min. I sent this entry to Yeastspotting, Susans weekly showcase of yeast baked good.