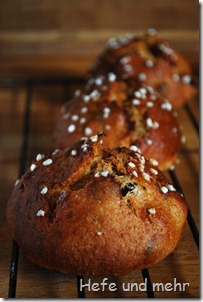 I love to eats raisin buns. The boy friend has a reverse opinion on the topic of "dried grapes". He tends to mention "murdered grapes" then and suggest to eat them better fresh instead of drying them.
And so there are seldom raisin breads, or raisin buns or apple cake with raisin and I bake most of the time goods we enjoy both. But sometimes I get a craving for raisins.
And that happened to me when I saw the beautiful spicy buns on farine. Sweet rolls with a lot of wholewheat, raisins and cranberries, seasoned with a mixture of cinnamon, cardamom and anise. I had to bake these rolls immediately. I added a little bit of my Lievito Madre to the dough to add some deepness of flavour and decreased the amount of yeast accordingly. My dough contains also a little bit more raisins, just to prevent myself of storing the remaining 20g of raisins somewhere in my little kitchen.
The Spicy buns turned out to be delicious. The lievito madre adds a li
ttle bit of tangy flavour in the background. The fruits give a nice sweetness to the rolls and the homemade spice mix makes it perfect for a breakfast on cold mornings together with some butter and honey. They are divine when the buns are still slightly warm your hands…
Spicy Buns
Fruit mix
100g Orange juice
grated peel of 1/2 Orange,
200g Raisins
80g Cranberries
Flying ferment
140g wheat,freshly milled
280g Milk
10g sugar
10g fresh yeast
Dough
Flying ferment
150g Lievito Madre
230g flour Type 550
130g wheat,freshly milled
55g Egg (1 EggSize L)
50g Butter
50g sugar
12g Winter Spice Mix
10g Salt
Fruitmix
Glazing
Mix raisins and cranberries with orange peel and orange juice and let soak for at least one hour (or preferably overnight). Stir occasionally. Drain over a sieve before using.
Prepare the flying ferment by mixing flour, milk, sugar and yeast. Ferment for 1 hour.
For the Dough knead flying ferment, Lievito madre, flour, egg, sugar, spice and salt for 5 min at slow speed and 8 min at high speed. Then stretch the dough to a rectangle and top with the fruit mix. Roll into a log, flatten the log again to a rectangle and roll up again. Put the dough back into the bowl and ferment for 1 hour.
Dived the dough in 85g and form into balls. Place on two paper lined baking  trays and proof for 1.5 hour.
Glaze with egg white and sprinkle with pearl sugar.
Bake at 200°C for 15 – 20 min.
I sent this entry to Yeastspotting, Susans weekly showcase of yeast baked good.