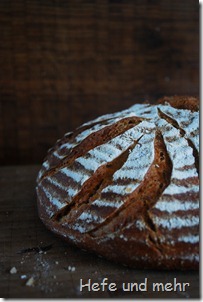 It is amazing how fast the year flies. It is already autumn and World Bread Day is knocking on my door. And because baking a bread with yoghurt for this day is somehow traditionally for me, I decided to bake again a Yoghurt bread in this year.
As preferment I decided to use Pâte Fermentée. I did not use this preferment for a bread for quite some time. I don't know why because Pâte Fermentée is such a patient preferment. While Sourdough or Poolish are not willing to wait when they reach their peak the Pâte Fermentée will sit in the fridge until the baker finds time to come to kitchen and bake.
The Bread I pull from the oven the next morning (the loaf proofed in the fridge over night) had a nice even crumb which stays moist for a long time due to the yoghurt. Very delicious!
Happy Bread Baking Day!
Yoghurt Bread
Pâte Fermentée
125g flour Type 550
85g Water
1g fresh yeast
3g Salt
Dough
Pâte Fermentée
200g wheat, freshly milled
675g flourType 550
500g Yoghurt
260g Water
10g fresh yeast
18g Salt
Mix all ingredients for the Pâte fermentée and proof it for 1 hour at room temperature. Then put the dough into the fridge for 12 hours.
Now mix the different flours with the water, yeast, pate fermentée and yoghurt and rest it for 20 min (Autolysis).
Now add the salt and knead 5 min ad the slowest speed and 5 min ad higher speed until medium gluten development. Let rise for 1.5 hours
After fermenting form in a round bread and place in a brotform seam side up. ´
Proof overnight in the fridge,
In the morning heat the baking stone at 250°C.
Prior to baking, slash the loafs and bake the breads for 15 min at 250°C with steam then reduce the temperature to 220°C and bake for another 35 min.
I sent this entry to Yeastspotting, Susans weekly showcase of yeast baked good.