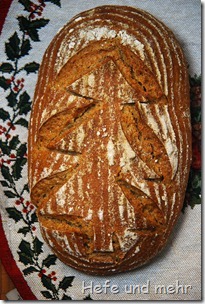 Before the christmas treats take over completly I post another healthy bread.
I baked this bread for our christmas party together with the little Santa Hats. In the winter time I like rustic breads, made with whole grain flour and seasoned with bread spices like fennel, caraway or coriander. Especially in a sourdough bread with some rye flour .
To keep things simple I decided to let the bread rise overnight in the fridge. So at the next morning I just had to preheat the baking stone, slash the bread (as a christmas tree) and bake it while I get ready for work.
And what a mouthwatering flavour filled the kitchen during baking! But I battled the urge to cut the bread directly – just for testing – and waited till our christmas party. But then I tested it and  was satisfied – it tasted as good as it smelled. The spices and sourdough were blend together to a harmonic taste and the crust was crunchy. Very delicious!