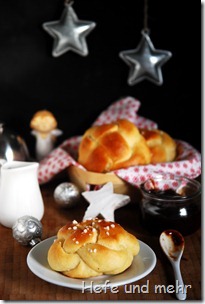 Does this happen to you, too? You bake something, write down the recipe and then you did not post it. And after some time you even forget about it. That happend to me with this round braided rolls, which I baked the first time somewhere in the summer. They taste  good  but I was not satisfied with the picture. And so I forget this rolls completely.
Unitll  Micha posted her beautiful Flechtwerk. Then I suddenly remembered that once I took detailed pictures of the braiding. But with the picture of the final roll I was still not satisfied. And so I baked them once again for a breakfast with my sister and my niece. The dough was easy to handle and after I once understand how to braid round bread, they take not so much time to braid.
They look very elegant due to the braided form – perfect for a holiday breakfast. Vanilla give them a rich taste with some complex aroma which they developed during their long proofing. Their crust is soft, as desired when baking sweet bread, and their crumb is fluffy.