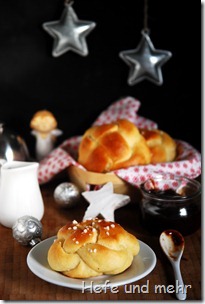 Does this happen to you, too? You bake something, write down the recipe and then you did not post it. And after some time you even forget about it. That happend to me with this round braided rolls, which I baked the first time somewhere in the summer. They taste  good  but I was not satisfied with the picture. And so I forget this rolls completely.
Unitll  Micha posted her beautiful Flechtwerk. Then I suddenly remembered that once I took detailed pictures of the braiding. But with the picture of the final roll I was still not satisfied. And so I baked them once again for a breakfast with my sister and my niece. The dough was easy to handle and after I once understand how to braid round bread, they take not so much time to braid.
They look very elegant due to the braided form – perfect for a holiday breakfast. Vanilla give them a rich taste with some complex aroma which they developed during their long proofing. Their crust is soft, as desired when baking sweet bread, and their crumb is fluffy.
Round Braided Rolls
dough
125g Buttermilk
125g Milk
1 Vanilla bean
40g Egg yolk(of 2 Eggs Size L)
5g Salt
5g fresh yeast
500g flour Type 550
100g sugar
125g Butter,
Zum Bestreichen
Mix Milk, Buttermilk, pulp of a vanilla bean, salt, egg yolk and flour and knead on slow speed for 10 min.  The dough has a very firm consistence. Now add the sugar in small portions and knead until the sugar is completely incooperated before adding the next one. After all sugar is added to the dough, add the butter all in once and knead until a soft, silky dough is formed.
Let rise overnight at roomtemperature
Dived the dough in 80g . Roll into a strand of about 70 cm. Divide the strand into 4 parts. Now lay them cross-wise, so that the strands are inwoven(1). Now take the lower strand and lay it over the higher one (2) and repeat this once more in the other direction (3). Now fold the free ends into the middle (4) & (5) and turn the roll (6).
Place on a paper lined baking  tray and proof for 1 hour.
Glaze with egg white and sprinkle with pearl sugar.
Bake at 200°C for 15 – 20 min.