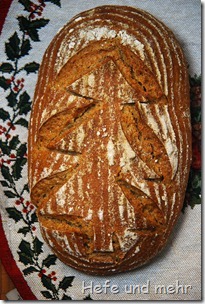 Before the christmas treats take over completly I post another healthy bread.
I baked this bread for our christmas party together with the little Santa Hats. In the winter time I like rustic breads, made with whole grain flour and seasoned with bread spices like fennel, caraway or coriander. Especially in a sourdough bread with some rye flour .
To keep things simple I decided to let the bread rise overnight in the fridge. So at the next morning I just had to preheat the baking stone, slash the bread (as a christmas tree) and bake it while I get ready for work.
And what a mouthwatering flavour filled the kitchen during baking! But I battled the urge to cut the bread directly – just for testing – and waited till our christmas party. But then I tested it and  was satisfied – it tasted as good as it smelled. The spices and sourdough were blend together to a harmonic taste and the crust was crunchy. Very delicious!
Spice Bread
Sourdough
30g Sourdough
100g flour Type 550
150g whole rye flour
250g Water
Dough
Sourdough
100g whole rye flour
200g Wheat, freshly milled
500g flour Type 550
470g Water
7g caraway seeds
7g fennel seeds
7g coriander seeds
1g Schabzingerklee (Trigonella caerulea ) (1 Tsp)
5 g fresh yeast
20g Salt
In the morning mix water, flour and starter for the sourdough and ferment for about 10 hours at 25°C.
In the evening knead all ingredients 5 min at the slowest speed and 8 min at higher speed until medium gluten development. Let rise for 1.5 hours
After fermenting form in two breads and place in  brotform seam side up. ´
Proof overnight in the fridge,
In the morning heat the baking stone at 250°C.
Prior to baking, slash the loaves, then place them in the oven. Turn the temperature back to 200°C and bake the bread for 45 min with steam.
I sent this entry to Yeastspotting, Susans weekly showcase of yeast baked good.