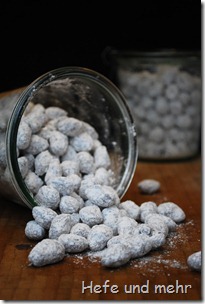 Christmas eve is now near. And the nearer this day comes the more I enjoy the fragrance of almonds, cinnamon, vanilla, clove and other spices. And when I read a recipe for Chocolate Almonds I knew instantly that I has to try this recipe. But – and I knew this instantly, too – that I would have to make spiced chocolate almonds, with cinnamon, cardamom and vanilla – just like the delicious chocolate almonds that you can buy at this time of the year.
They are not very complicated to make but to coat them with chocolate needs some time. The chocolate is added in small increments and then the almonds have to be stirred until the chocolate sets. And then the next increment of chocolate  is added…  And that repeatedly until the almonds are covered with a thick layer of chocolate. It is a similar principal as dipping candles.
When the almonds are done you have to find a save spot hide the almonds, otherwise small or big christmas mice will eat them

Chocolate & Spice Almonds
Sugar syrup
100g sugar
30g Water
200g almonds
Spice Chocolate
200g Semisweet Chocolate
200g Milkchocolate
1 – 2 Tsp Winterspice or Ginger bread spice
50g Powdered Sugar
Preheat the oven to 175°C
Boil sugar and water until the sugar is dissolved, then stir in the almonds.  Pour the mixture on a baking try.
Bake in the oven for about 20 min until  the sugar is started to caramel, stir occasionally. Let the almonds cool down completely (over night works well).
Melt the chocolate over boiling water and stir in the spice mixture.
Place the almonds in a big bowl and place the bowl in cold water (best with ice cubes). Now add a little bit of chocolate and stir until the chocolate sets. Now add the next increment, stir again until the chocolate sets. Repeat this, until all chocolate is added.
Now add the powdered sugar and stir again, until the almonds are covered with sugar.