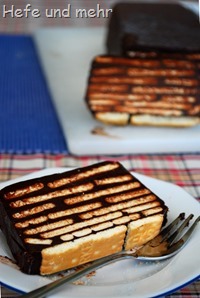 I take birthday cake wishes very serious. Especially when the birthday child already mentioned month ago that he always got this one special birthday cake in his child hood. And that this cake is his most favourite cake ever. And so I knew directly which cake I would bake. Ok, "Baking" is maybe the wrong term here. The cake is called "Kalter Hund" which means literally cold dog. It consists of consist of Leibniz-Keks and mixture made of cacao, sugar, eggs and coconut oil. The cake was invented in 1920 as promotion for the Leibniz-Keks and was very popular in the 1950s and 60s.
I made the cake with some additional chocolate and with less sugar, which resulted in a very pleasing birthday cake!
Kalter Hund
200g Zartbitter-Schokolade
250g Kokosfett
100g Puderzucker
2 Eier
30g Rum
1 Prise Salz
50g Kakao
300g Butterkekse
Schokolade und Kokosfett im Wasserbad schmelzen. Eier mit Zucker, Salz und Rum schaumig rühren, dann den Kakao hinzufügen. Zuletzt die Kokosfett-Schokoladenmischung hinzugeben. Alles verrühren und in das ausgeschaltete Wasserbad zurückggeben (die Restwärme reicht völlig!). Eine kleine Kastenform mit Klarsichtfolie auslegen. Ein paar Tropfen Wasser zwischen Form und Folie helfen, die wiederspenstige Folie zu bändigen. 1/3 der Kekse längs halbieren. Eine dünne Schicht Kakao-Creme auf den Boden streichen. Eine Schicht Kekse auf die Masse legen, dabei immer abwechselend eine halben und einen ganzen Keks nebeneinander setzen. Dabei ein wenig Abstand zu den Seiten wahren!Eine weitere Schicht Kakao-Creme aufstreichen, wieder Kekse darauf legen und das solange wiederholen, bis die Creme aufgebraucht ist. Mit einer Keks-Schicht abschließen. Für mindestens 4 Stunden im Kühlschrank erkalten lassen, dann stürzen, die Folie entfernen und den Kuchen in Scheiben schneiden.
Kalter Hund
200g semisweet chocolate
250g solid coconut oil
100g powdered sugar
2 eggs
30g Rum
1 Prise Salt
50g cacao
300g Leibnitz-Keks
Melt chocolate and coconut oil in a water bath. Mix eggs, sugar, salt, rum and cacao, then fold in the chocolate-coconut oil mixture. Place the mixture back in the (now turned of) water bath. Line a small square baking tin with clingfilm and spread some chocolate mixture on the bottom. Add a layer of Leibnitz-Keks, then another layer of chocolate mixture. Continue these layers until the chocolate mixture is finished. Leibniz-Keks will form the top layer. Cool in the fridge for at least 4 hours. Now turn out the cake, remove the cling film and slice it.