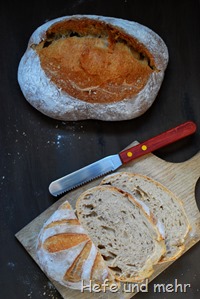 During hot summer days I prefer light breads. Breads like Baguette or Pain de Campagne bring a reminiscence of french summer days in our life.
For Pain de Campagne, which is although called French country bread, you can find thousand and one recipes and forms. Everyone seems to have his/her own recipe. But most of the breads are made with levain, a wheat based sourdough, and with a small portion of whole rye or whole wheat flour. And so I added some rye flour and levain for my variation of Pain de Campagne, too. A long, cold fermentation phase helps to build a complex flavour.
The bread has a airy crumb with big holes and a dark brown, crunchy crust. A delicious bread that goes very well with some French cheese and a big bowl of salad.
Pain de Campagne

Sourdough
200g flour Type 550
200g Water
20g sourdough
Dough
Sourdough
600g flour Type 550
200g rye flour Type 1150
470g water
2g fresh yeast (optional)
20g Salt
Mix water, flour and starter for the sourdough and ferment for about 12 -16 hours at 25°C.
The next morning knead all ingredients 5 min at the slowest speed and 8 min at higher speed until medium gluten development.
Let rise for 12-24 hours in the fridge.
Divide into three equal pieces and form into Batards.
Proof on a well floured couch for about 2 hour. In the meantime heat the baking stone to 250°C.
Prior to baking slash the breads lengthwise. Place the breads in the oven with steam. Turn the temperature back to 200°C after 15 min and bake the bread for another 20 min .
I sent this entry to Yeastspotting, Susans weekly showcase of yeast baked good.