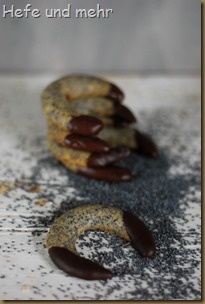 And here I am with another modification of my standard recipes. I saw a picture of Mohnkipferl (poppy seeds crescents) somewhere in the depth of the world wide web some weeks ago, but did not save the site nor the recipe (my fault, I know). And so I had to be creative…
I replaced the almonds in my vanilla crescent recipe with ground poppy seeds. I ground the poppy seeds with the mini chopper accessory of my hand held blender, but an electric coffee mill or a food processor should do the job, too.
The poppy seed experiment worked out perfectly, the kipferl a perfectly mellow and are a perfect contrast to my normal vanilla crescents!