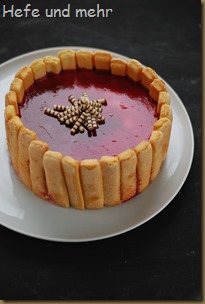 In April a lot of our family members on both sides celebrate their birthdays. On my side my mum, my sister and my little nephew have their birthdays within four days in the first week of April (and one my Aunts is born in this week as well). The three decided to celebrate together and so I spent most of the weekend in the kitchen, baking birthday cakes. My sister wished for a raspberry cake and I decided to make a Raspberry Charlotte.
For the filling I go for a mixture of two of my favourite raspberry fillings because I could not find a recipe I really liked. The yoghurt adds a light touch to the cake and balanced nicely the sweetness of the white chocolate.
Raspberry Charlotte
for a Charlotte with 22 cm diameter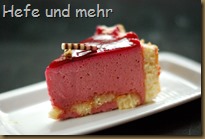 300g lady fingers
150g raspberry sauce(300g  frozen raspberries cooked and passed through a sieve)
4g Agar
50g Milk
150g white chocolate
300g Yoghurt (10% Fat)
200g cream
100g sugar
2 egg white
Raspberry Jelly
50g Water
0,5g Agar
30g sugar
50g raspberry sauce
Cut the lady fingers on side to form a plane foot. Wet the sugary side with some water and line a cake ring (22 cm diameter) with them, the sugary side facing the ring. Cover the bottom of the cake ring with the remaining Lady fingers.
Head the raspberry puree with agar and milk until it starts boiling. Boil for another 2 min.Stir in the chocolate and let stand for 3-5 min and until the chocolate melts. Warm the yoghurt to 35°C and fold in the raspberry mixture.
Let cool down to 35°C.  In the meantime whip the  egg white with sugar over boiling water to stiff peaks and whip the cream as well. Fold both it into the mousse. Pour the mousse in the prepared cake ring. Let set for about 1 hour in the fridge.
Raspberry Jelly: Bring , water and agar and cook for 2 min. Mix in the raspberry sauce and pour on the top of the torte. Place in the fridge until serving (at least 3 hours).